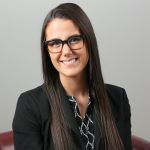 Josephine (Josie) Johnson
Listing Specialist & Buyer Support
A little about me
It all started when I bought my first investment property. Curious to enter into a whole new world of real estate, I was eager to learn more and explore the opportunities that it has to offer. By taking my passion for real estate to the next level, I have learned that it is exactly the right field for me to exercise my customer service, interpersonal, and marketing skills.

I strive to create new relationships while helping people through the life changing process of buying a home. With the variety of different styles of homes and clients, I am able to adapt as a real estate chameleon because I understand that different people need to be approached in different ways. My ability to adapt to different personality styles as a real estate chameleon allows me to work with a variety of people, while having fun along the way. When you work with me I will educate you, and create a positive atmosphere for us to work in. Your real estate transaction may be one of the most important financial steps that you take in your life, so my organizational skills and systems will allow me to properly guide you through the process in an efficient, and productive manner.
Our clients are awesome
"Josie assisted in both the sale and purchase of my homes. This was my first time selling a home, and
…
Read More
I don't think I could have had a better first experience. Josie was always responsive and made me feel like I was her only client. She was extremely helpful with providing me with expert knowledge to get my home ready for listing. Once we listed, it took only three days before we accepted an offer! On the buying side of things, we had some unexpected things come up with the property, and Josie worked tirelessly to advocate for us and make sure we were taken care of. I will always be grateful for that. The next time I plan on selling/buying, I will be working with Josie again."
Read Less